There could be many circumstances when one would like to block a website due to their own reasons.
Why Block a Website
For an instance, these days kids used to be on the computer whole day, most of the parents used to think that they are studying on it. But they never know when they started playing video games on in, and they like to do it for the whole day.
And monitoring the kids whole day might not be possible for anyone, as they cannot be all the time with them.
And the parents wonder whether they could have a temporary website blocker or a website blocker for studying. In this case thinking for a smart solution could make the parents free of worry.
How To Block A Website In Windows
Many of them use a third party software to block websites on the computer, which actually works well.
But here the question is why to use a third party software when blocking a website can be done in Windows operating system default features itself.
Surprised…!!!
Never knew of this option? then continue reading and follow step by step without missing a single one to get this work. And moreover it this method allows block specific websites as it is not a good idea to remove the internet connection or to block all sites.
Block Specific Websites: Step By Step Guide
Click on the Start Menu
Now type notepad into the search bar
Notepad will be displayed, right-click on it and "Run as Administrator".
Go to the "File Menu" and click on Open
Now we need to open a file from C drive
Navigate To "C:WindowsSystem32driversetc", here we won't be able to see any files because the file extension in the open dialog box is .txt.
So in the open dialog box change the format .txt to "All files", once done few files would be visible in the current, etc folder.
Now open the file hosts, by double-clicking on it, or clicking on the open button.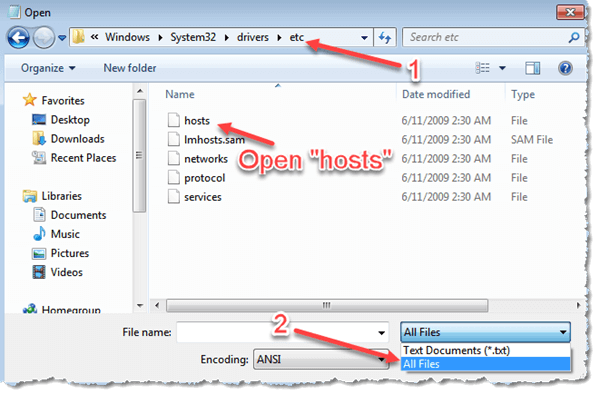 In this notepad, we could see some data already, and also we need to add those website URLs which we want to block from our windows PC in a particular format. Below is the example format of the same.
Here in this file named as "hosts", we can add all the websites which we want to block on your PC. But the format has to be accurate for blocking the websites.
For instance, as we can see the bold highlighted digits below, it is in the increasing order for every new website added. We can keep on increasing the order, for every new site to be blocked.

127.0.0.2 www.facebook.com
127.0.0.3 www.google.co.in
127.0.0.4 www.twitter.com
Once entered all the site URLs in the above format, save it. If you have any antivirus security on your PC, then it will ask "whether we want to allow the performed action," allow it. And yes we are done.!
It's time for testing those websites which we have blocked. Open your browser and check them, those web pages will not open and will show and browser error.
It must work if all the steps have been followed without missing. Share if it used to work for you, and even if it doesn't in the comment section below, will be happy to assist you.