Browser push notifications can be really annoying at times when we looking or browsing something really seriously. In that case, it's not a bad thought at all to disable web notifications. Most of the users want to get rid of it and turn off notifications permanently.
These days most of the websites intend to show browser desktop notifications. It's observed most of the websites where we can shop things always wants to pop up the notifications to get connected with their visitor going further to increase the chances of sales.
Not just shopping websites, it's trendy these days among any website so their audience can be stay tuned for their regular updates. Which actually helps out seldom.
How To Disable Web Notifications in Browsers Mozilla Firefox
By default, Firefox doesn't have such a feature to directly stop the notifications, but still, the job can be done.
Step 1. Go To Firefox browser, and click on the 3 bars at the right top corner and choose "Options" from that.
Step 2. Now find the Content section, and in that, we would be able to find " Notifications. Check the box "Do not disturb me."
In case you want to allow notifications from any particular website then you can always manage push notifications by clicking on the " Choose" button.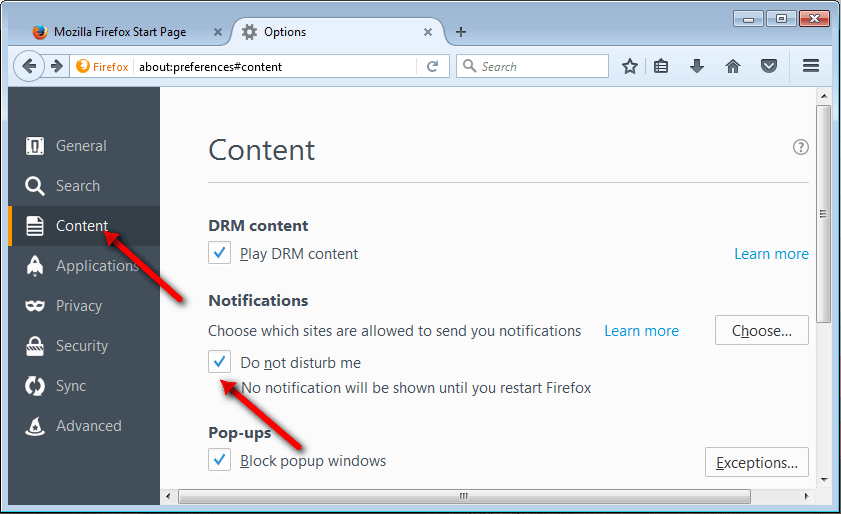 Step 3. Now type about:config in Firefox address bar and press enter, this will open up a new window.
Step 4. Click on I accept the risk! button.
Enable or disable notifications
Step 5. Now the final step input "dom.webnotifications.enabled" in the search bar and hit enter, it will show the required fields, double-click on the value to change it to false.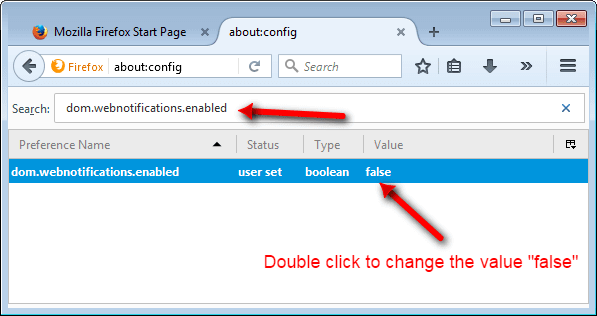 And this will disable web notifications permanently in Firefox.
But, unlike other browsers, you won't be having any exceptions here to allow notification to any particular websites you would like to.
But this is how you can Enable and Disable Firefox Notifications.