Chrome is a very popular browser because of its exceptional performance and probably the most used browser around the world. In Chrome, we can quickly stop notifications for the website we would like to.
Step 1. Open Chrome and click on the 3 dots from the right top corner, and click on "settings" this will open up the settings window.
Step 2. Scroll down until you find "Advance Settings" and click on it.
Step 3. Under the Privacy section, click on "Content Settings."
Step 4. From the Content settings window, under "notifications" section check the radio button Do not allow any site to show notification.
Step 5. In case if you have already allowed few websites to show notifications, then the settings can be changed by clicking on the "Manage Exceptions" button
We can always turn on push notifications or stop those from any particular websites we like to in Chrome, unlike Firefox. As seldom it could be very useful to stay updated.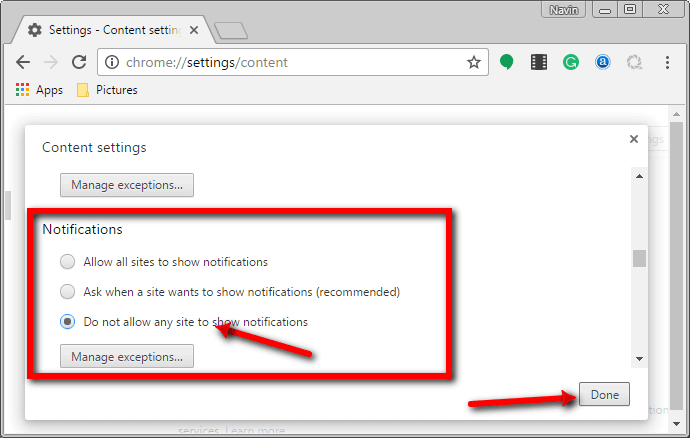 Step 6. Click on "Done" and say bye to the notifications.