It is not easy to manage all the photos. As our photos are used to be on different devices like, Tabs, Smartphones, etc. and we had to keep on transferring the photos to a hard disk or laptop when the memory card becomes full and starts lagging, and in order to free up some space in the devices, we start filtering out the photos which we like the least.
And to free up a lot of space in our devices, we dug the internet to find some cloud storage apps. There are plenty of online photo-sharing apps available these days, Taking the help of those apps we can easily manage all the pictures. Among all one of the app is Google Photos about which we will be discussing and getting into some details.
Let us see what Cloud Storage is
When we upload photos to Google Photos, our photos are saved into Google Servers. In the free version, we get a 15 GB storage capacity for an account, and we can store photos from all the devices into it. Many cloud storage services are now available, Dropbox and Google Drive are quite popular amongst all. Though we have plenty of cloud storage services then why Google Photos are important…?
Let us find out few reasons behind that why Google Photos are important
Google photos are primarily created for photos only, and it has plenty of features which are not available in the rest of cloud storage services.
Once the required settings made into google photos then it will automatically schedule the backup in the cloud as soon as a new photo is clicked from your device and it syncs all the photos across all the devices, so that we can view all our photos from one device and we can download those as well on the go.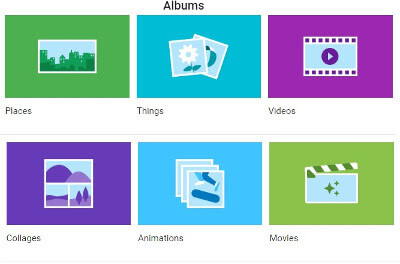 You can create folders or albums in Google Photos, and those albums can be shared well to the required number of users (friends and family), to have a sneak of your memories.
And if those users are also been allowed by you to edit those albums or collections, they will be also able to upload their photos in the same collection or albums.
You will be having a full command of your posts, like whom to be shared and what to be shared, and also whether they could edit your albums. So despite sharing your pictures with others, you will be the master of your Posts. Isn't that cool.
In Google Photos, we can also do some visual search.

Create Movie from the upload images
Now apart from all these one more features of Google Photos standing it ahead from the rest. It groups similar pictures and creates a movie out of it. So it has an inbuilt video creator as well, which means we don't have to install any third-party application for creating a film or slideshow of the photos. Without an effort, we can get a video in which we can include music as well with the pictures which we have uploaded. Let's see how to get this done.
1. Open the Google Photos app
2. At the bottom, tap Photos
3. Touch and hold the first photo or video you want to include, then select the rest.
4. At the top right, tap CreateMovie
5. To see your movie, tap Play At the top, tap Untitled to add a title.
Faces is Another Unique Feature in Google Photos
There is one more interesting feature as "facial recognition" in Google Photos. In this facial recognition feature, Google Photos detects all the images and groups all similar-looking faces. This feature has only been launched in the US as of now. It is progressively launched in other countries as well.
Edit your movie
You can change the music, theme, and remove or reorder clips:
Music: Tap Music
Theme: At the bottom left, tap Themes. You can change the themes while the movie is playing to see how they look.
3. Reorder clips:
Tap Edit
Tap and hold a clip to drag it.
Remove clips:
Tap Edit
Tap the clip you want to remove Trash.
If finished with the editing part, click on done.
Google Photos is really quite useful for storing the pictures, in fact, it's more than a storage section as we have seen above.
Google Photos is one of the products of Google, which can be used to manage all our photos. As it contains plenty of useful features apart from just being a storage drive.
You can take a backup of all the photos in the cloud from the PC, Tablet, or Smartphone. And later on, those can be synced across all the devices, so that we can manage all the photos from any devices.