One Google Account is not being sufficient for anyone, we all have to work with multiple Google email accounts at the same time and required to keep on switch Gmail accounts.
And it is not that simple to keep on switch accounts because you can not use multiple Gmail accounts in one browser.
So in such a case either you have to use a couple of browsers, or you have to open another account in the incognito mode.
And that's again not that convenient as kept on Sign in with different Google account sometimes goes very painful if you have multiple Google email accounts.
As we use Google Chrome very often because of its features (Extensions) and fast loading. So let us see how to do account switching with multiple Gmail accounts in one browser itself. This Google Chrome feature makes life much easier.
Switch Google Accounts Without Signing Off In Chrome
Manage Google Account easily –
Step 1. Click on the browser right top corner on your name, it will show some options and
Step 2. Click on the gear icon (Manage people)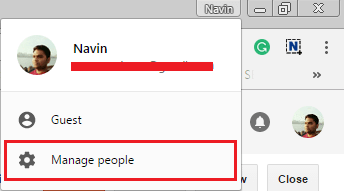 Step 3. A window will appear, click on Add person.
Step 4. It will take you the next dialog box, provide a user name in that field.
Step 5. We could be able to see one more checkbox "Supervise this person to control and view the websites they visit from your Google Account."
This is to manage other account users which is an interesting feature, that is another detailed article. Let it unchecked if you use all the accounts yourself.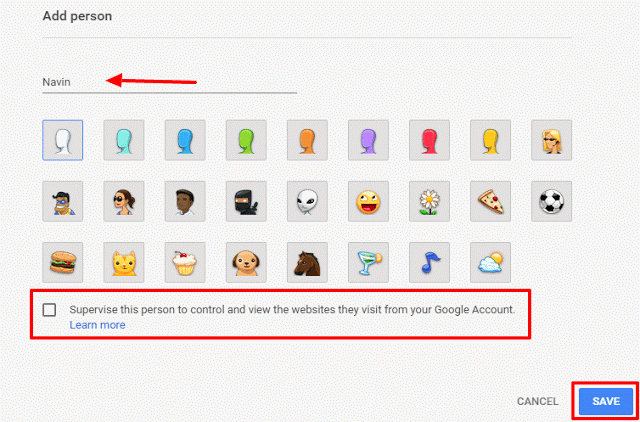 Step 6. Once the "username" entered, Click on Save Button. It will open a new window.
Step 7. Now, here we have to provide the new Gmail login credentials, which we want to use along with the primary Gmail account. That's it, now you will be able to see one more window with the other Gmail account.
You can add many Google accounts following the same process with ease.
How To Manage Google Account More Than Two
Now if few Google Accounts are added, then you would be able to see plenty of browser window at your taskbar, we can switch accounts by clicking on the respective window.
In case if it looks confusing to identify the right window, there is one much easier way to switch accounts.
Step 1. Click on the right top corner, as we did to add accounts, but this time you will be able to see all Google new user accounts. Have a glance at the below image for better insights.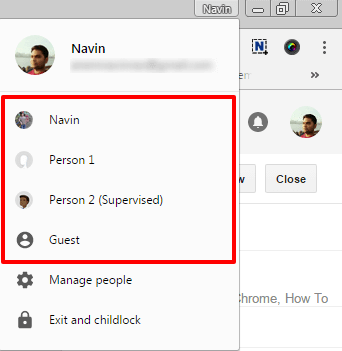 Step 2. Now to switch between the accounts, click on the respective user, and you will be taken to that Google account. In the same way, you can switch to all your Google accounts. Isn't it cool?
Managing multiple Google accounts can be easier than this. Would like to hear from you, how helpful this Google Chrome feature was.