As Google Spreadsheets are being very popular these days at work, save all our work to the cloud on the go from any device which we have.
It's quite simple to manage and organize, as it has plenty of required features and people love to do so. Apart from the brilliant features, it contains, we can add thousands of Add-On's as well, which makes the work simpler.
We all want to save time at work, isn't it?
I am sure the answer is yes, in that case, please continue reading it.
One thing which every user of Google Spreadsheet has to do in their work, and that is creating a table for a clean and presentable look.
To make a presentable template, it takes some time to get it done. And we all don't have enough time. So now here we will discuss how can we simplify this process with an Add-On.
"Table Styles" is the Add-On, which can simplify our work and make the data look great with very fewer efforts.
Let Start on the process how to get it done
Take a New Google Spreadsheet and Create your Data
Click on the "Add-On's" Menu and choose "Get Add-on's" to add some add-on's
The above action will open a window, with a lot of add-on's, search for the desired add-on's in the search bar, and Enter, and it will find few options, select the first option "Table Styles" and now click on the button "Free." And next one more window will appear "Allow" it to install the "Table Styles" Add-on.

4. Now we will be able to see an "Add-on" gets already added into the Add-On's menu, Three options will be added.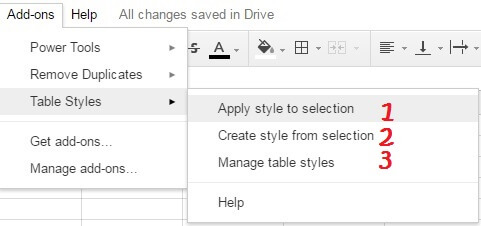 Apply Style to Selection – This option allows you to select any of the predefined "Table styles," and also gives some options to customize the table. This will be very quick if you in a hurry.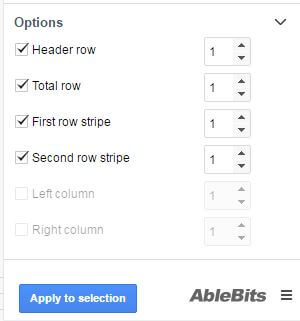 Create Style from Selection – This option allows you to create your table style as desired and also lets you save the style for all your future uses as well.

Manage table Styles – This option will work only if you have created or customized your style. This can be used for editing or delete the customized style.

This Add-on works great..!!
There are plenty of more Add-On's which could be very useful in the Google spreadsheet store.