Google has several useful products that are being used at home and in the office. It is regularly used just like the spreadsheet, Documents, slides, drawings, maps, etc.
Google Form is one of them which is very trendy and popular these days, yes a lot of reasons good reasons behind that.
As it is very user-friendly and easy to create. It can be created just in few minutes. An example we need want to go on a tour with our friends, but we are not able to decide the place.
In such a case, we can use google forms to create a poll for the same. Creating Forms are as simple as creating any document and most importantly it is fun.
Uses of Google Forms
Surveys can be easily created through Google forms
Opinions can be taken quickly from friends or clients
The poll is very easy to create
Some Events Registrations can be simply managed through it
Emails can be Collected instantly
An online Quiz Contest can also be conducted and much more.
Check out the quick example –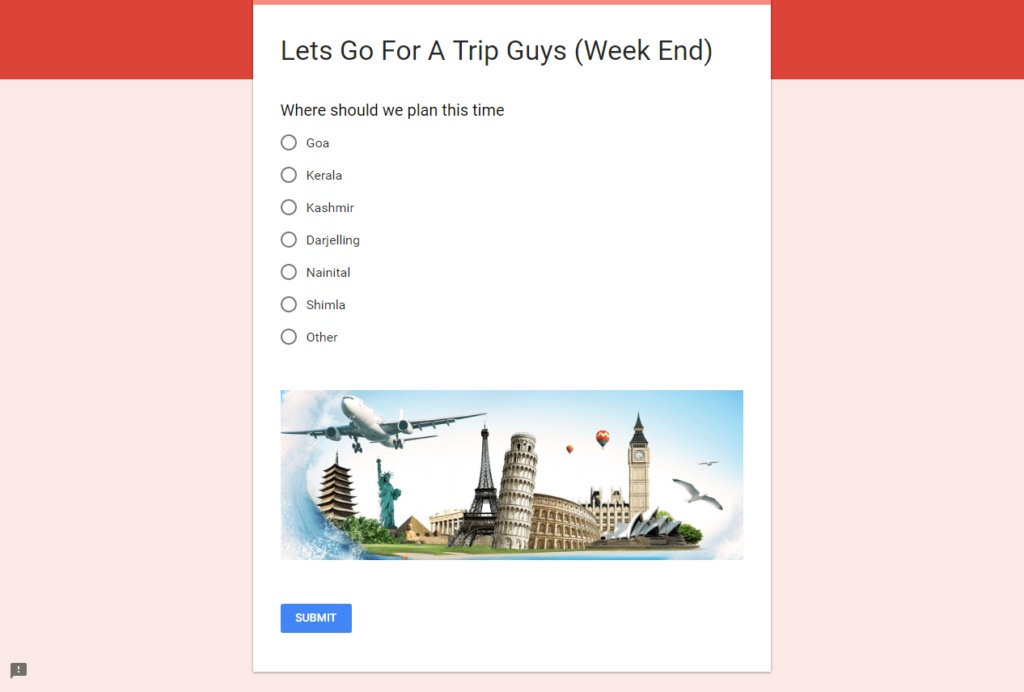 Any questions can be added easily to get the answers from it, as kind of a quiz. We can also give Multiple Choices, or the answers can be chosen from the drop-down as well. Isn't it cool, we can do this all without writing a single piece of code. All the options will be given default. We just need to customize those and put some inputs.
We can also create some professional surveys as well, for instance, a company need to convey some message or want to take an opinion of the clients for the better service. So forms can do this job very well, as it looks very professional and rich regarding quality.
Customization Of Google Forms
By default itself, Google Forms looks quite good to the eyes. Still, if we want to customize those, we can do it quite quickly.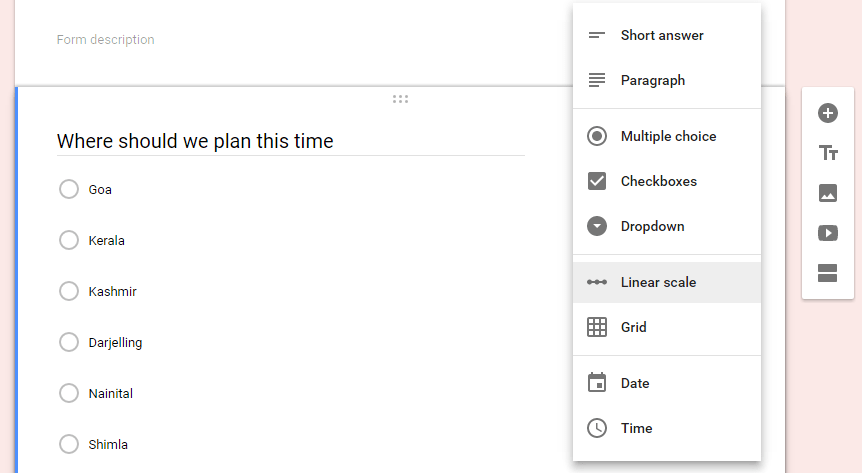 We can change the color(theme) of the Google forms. There are plenty of predefined themes provided in it. And moreover, we can also add our own images in the background to make it much better and own. All we need to do is to import an image from our local directory.
So here we have both the options either to select the predefined themes and our own images.
Google Forms are completely responsive, it can be viewed properly on any devices, either on the Desktop, Tabs, or mobile devices, etc. As can be viewed well on all the devices so people can respond to these forums on the go.
After creating the Google forms, it can be easily shared with friends, colleagues, or the clients through a shared form with an email or link.

The output of the Google Forms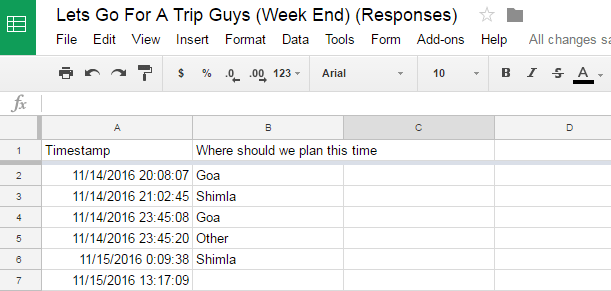 Responses related to the survey, poll, or quiz can be collected in one place. We can see all the responses in Google Spreadsheet in a very organized way because it will be linked to the forms. Saying linked means all the inputs from the Google Forms will directly being posted into the Google Spreadsheet, which is the coolest part of it.
The Responses can be analyzed with an automatic summary created by the forms itself. Apart from summary a graph too will be added to the forms. So reading the graph chart is much easier than the numbers. Here we can analyze the data in both the forms.
Moreover, we can also add some collaborators, so that all the collaborators can simultaneously view and edit the Google Forms.
So it can be used by many users. If there a question arises whether Google forms can handle more users. So the answer is yes, there are not limited users for the same.
Google forms are capable enough for the same. Google Forms handle a large number of responses.
How Safe and Secure Google Forms are
To respond to the Google Forms, people don't need any google account or need to log n for the same.
The forms can be kept completely private. It depends completely on us, with whom we want to share it. With the help share settings of Google Forms, the control will be complete with us.
Added a quickly made demo Google Form for a better idea on the same.