In this article, we will see how to embed Google maps in the Website or blog and doesn't matter which platform you are using to do so, the process would be the same.
Technology is changing humans life, and almost everyone adopts it, and it is definitely an outstanding aspect of this growing world.
Talking about the growing world, how can we forget business people, the actual spine considering the growth factors. Businesses must use maps on the website in order to grow their business and creating a trust factor from the customer's perspective. We can show the location in the blogger as well.
Embed Maps For Your Website: Why To Use Maps
Maps are being very common in use, as every individual wants to find an address or location through maps, which is an easy thing and saves a lot of time. Need a location, go straight away and find it on maps. So it is quite necessary to add a map to your website.
And help your customers who visit your website and could easily find the business location right away from your website.
Adding maps to your website will definitely give good results in terms of business and as mentioned above it increases the trust factors, even small business follows this and maintains a healthy relationship with their new customers.
And all this can be done by a simple iframe map embed code.
Check out the Demo below, how it would look on your websites. Isn't it look cool if your website presents your business exact location like that.
Now the question is how to get that map embed code to integrate maps on the website to impress your customers.
Before getting into the procedure, let us see the list of maps from where we can add a map to your website.
Amongst the above list, Google Maps and Bing Maps are the very popular ones. And I would recommend going with Google Maps. So let us see how to use Google Maps on the website.
Why to Add Google Maps on WebPage
Google Maps has some advanced features and is almost regularly updated and introducing some advanced features which help the users to track and identify the location more precisely.
Few Highlight Features
We can switch to two modes of the maps the Earth mode (Satellite view) and also the light mode of maps. Depends on the device we are using, a lightmaps mode recommended in a smaller device like your smartphones as it loads fast and gives better results. These models make the navigation flexible.
Easy directions with extreme features that make navigation easier. Even if you are on Bicycle, Walking or Driving. The direction is audible too.
It Provides also the save option for the location which we have searched for, and all the customization we have made. So that if you are looking for the same location going further we can always open the save data to avoid re-customization to find the exact location.
Apart from all the cools features we can also view some Architectural buildings on the maps, which can be seen in both 2D and 3D as well. Which makes the location much clear into the mind and familiar with the places.
How To Add Google Map to Website
Step 1. Open Google Maps
Step 2. Input the location in the search bar, like location, city-state, etc. and hit enter. It will take you to the location directly.
Step 3. We can always switch in between Earth Mode(As shown in the below image) and also in the basic map mode.
Step 4. zoom in and zoom out functions are also there to find out the exact location of your business and to add it to your website.
Step 5. Click on the "Share" button.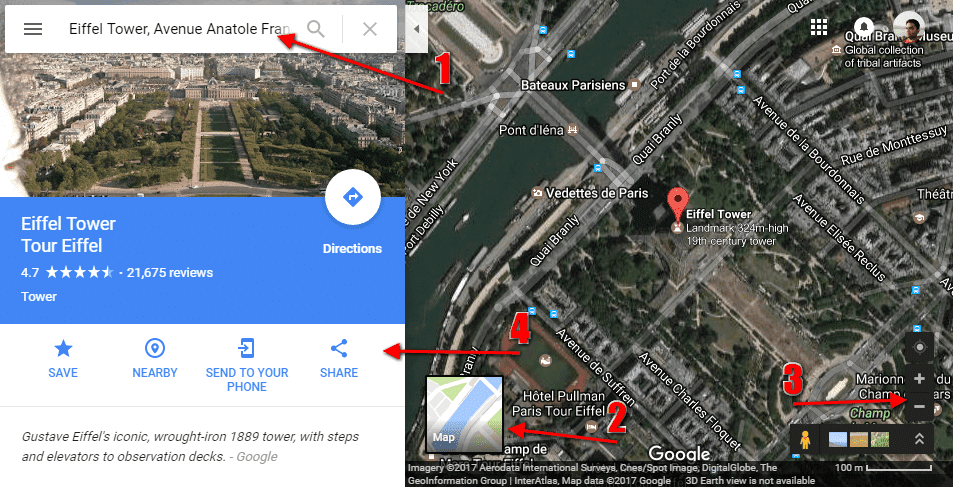 Once Clicked on the Share Button a window will pop up with some features.
Step 6. Switch to Embed map tab.
Step 7. We can select a map size either small, medium, or large. In fact, we can also customize the size of the map by using the Custom Size option.
Step 8. There we can see the map embed code, in the form of iframe code. You need to copy this code and place it at that place where you want to add a map to your website even in blogs like WordPress, blogger, or any other platform in HTML Mode.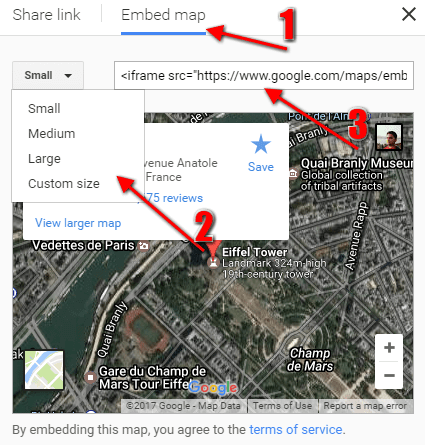 Bingo, you will be able to see your Embed map on your website.
This looks awesome and will complete the look of your website and moreover helps your customers to find out your business locations easily from your website itself.